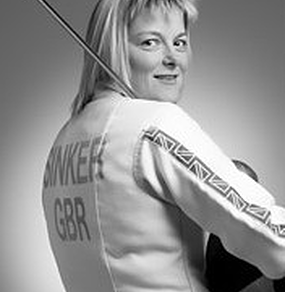 December 22, 2015 12:09 pm
At KRSC we offer Fencing coaching courses to both adults and juniors, these Term time courses will take place on Saturday's with the next term starting September 2017. The courses will consist of all aspects of the sport working through achievement awards.
Our coach
Kate Morwell-Neave  has been fencing since secondary school, Ashford School for Girls, in 1978. She loved it and was soon addicted! After she finished school she worked to fence and was at a competition somewhere in the country most weekends. At the age of 25 she became a member of the Senior GB Team and regularly competed abroad. Kate won many competitions over the years but her crowning glory was winning the Bristol Open (the biggest competition in the country at the time!) she became both county and South East champion on numerous occassions and after many years break she is now South East champion again in 2015! Kate coached at her old school (Ashford from 1988-1992) and then moved to Oxfordshire so travelling to comps was easier! She then had her family and moved back to Kent. There she found the draw back to fencing too much so in 2002 she began coaching again at Ashford. From those days her coaching has grown beyond recognition and she also teaches at Tonbridge School, Benenden School, Wellesley House, St Edmunds in Canterbury, St Faiths at Ash and of course Ashford. Kate has now started her own club, Invicta, in 2007 and this has produced GB squad members, something she is very proud of! In 2008 she reached the pinnacle of her career by being a member of the GB Veterans Sabre Team in Spain at the European Championships where they won Gold!
If you are interested in taking part in either of our courses please look at our activities page for more information and contact KRSC to register your details.
Categorised in: KRSC
This post was written by Deny Wilson